Earlier Speaker Projects

This was a speaker system I built for my own use in 1988 and used until 1993. I used 3 Strathearn Ribbons per side crossed over at 400hz to 10 Versatronics 6.5" drivers per side which were crossed over at 80 hz to 4 Versatronics 12" drivers. I used 4 modified Dynaco MkIII tube amps to drive the ribbons and 2 Hafler 220 amps to drive the midbass and subs.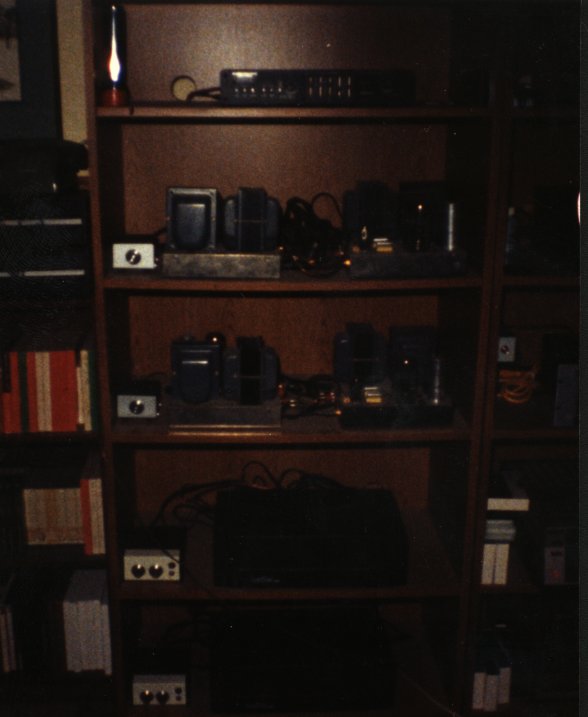 Pictured above are the 4 Dynaco MKIII tube amps, 2 Hafler 220 amps and the electronic crossovers I built.
Pictured above is a home theatre system I built in 1993 and used until recently. I used Carver Ribbon drivers crossed over at 200hz to 6 Seas 6.5" drivers per side and 2 Versatronic 12" drivers a side crossed over at 80 hz. I also used 1 JVC Ribbon "Super Tweeter" crossed over around 12.5khz to compensate for the Carver Ribbons high end rolloff. Also shown is my old Advent projector TV that I used for 14 years and replaced with a Sharp LCD projector TV which has now been replaced with a Barco 600 and a Barco 801s.
Pictured above is a closeup of one of the Carver Ribbon based speakers. Note the JVC ribbon "super tweeter" on top of the cabinet.